Other
Living With Wildlife
Guelph Humane Society

See links at the bottom of the page for additional information about living with wildlife.
From Living with Urban Wildlife (Canadian Federation of Humane Societies) and Dealing with Wildlife (Ottawa-Carleton Wildlife Centre)
Every year we receive hundreds of calls at the Humane Society concerning the wildlife in our area. Homeowners are often surprised when wildlife take up residence in or around their homes, and in doing so, may cause damage to property.
For the most part, wild animals tend to live around our homes because of an available food source (bird feeder, accessible garbage, pet food) and a potential shelter or safe place for them to have their young.
In the late winter and early spring, animals are preparing to nest and give birth. At this time, their need for adequate food and shelter is especially great, and it can be quite a challenge to persuade them to move once they have established themselves.
By eliminating potential sources of food and shelter you can take steps to prevent wildlife from taking up residence in unwanted locations around your home. Here are some preventative tips:
Eliminate Food Sources:
Seal garbage cans (this means a secure, tight-fitting lid) and keep them in the garage if possible.
Invest in a proper compost container.
Fence and anchor your gardens properly.
If your lawn is being torn up, a wild animal may be consuming grubs as its food source. There are a number of environmentally friendly, non-toxic products that you may choose from and some lawn care companies will also offer these products. Please try to avoid pesticides as they are potentially toxic and may pose a danger not only to wildlife, but to family pets and small children as well.
Seal Access Points:
Animals nest in attics, chimneys, basements, and under decks, porches and sheds. Install a chimney cap and mesh barriers over vents. Decks, sheds, garages or any other building lacking a solid foundation can be sealed with lattice, cement blocks, bricks or fencing. Please avoid using chicken wire – it stretches, so it is not particularly effective and animals may get caught in it.
If an animal is nesting, a little consideration and patience goes a long way. Once the young leave you can seal off the entry point. To ensure that the nest has been vacated try dusting flour at the opening. If there is no evidence of paw prints over a 5 day period, it is safe to seal. Even so, continue to monitor the area. Listen for noises that could indicate the presence of an animal, and if you have to unseal it to let the animal out, do so. A mother frantically trying to get to her babies will often cause more damage than she would otherwise. Further, any babies or adults left inside will starve. Not only is this a cruel and inhumane death, it will pose the problem of rotting carcasses which will ultimately have to be removed.
Passive Deterrents:
If you find yourself the reluctant host of an unwelcome visitor try: rags soaked in ammonia, bright lights and loud music at their points of access.
Why Not Live-trapping:
Many people look for an immediate solution when dealing with wildlife on their property. Some view the process of deterring the animal using wildlife-proofing strategies as a hassle, and prefer the outright removal of the animal as the most appealing option. However, live-trapping is not an effective manner in which to deal with conflicts between humans and wildlife, and can have severely inhumane consequences. Here are the reasons why we do not recommend the use of live-trapping:
It provides only a short-term solution. Wildlife is attracted to a particular site due to the availability of food, water, and/or shelter. Unless the resources that attracted an animal to that site in the first place are removed, it is only a matter of time before another animal inhabits that same place. Often times, this will create a situation where the property owner becomes increasingly frustrated because a new animal is taking up residence each time an animal has been removed. The cycle of live-trapping can be endless. It is the responsibility of the property owner to discourage wildlife by eliminating the resource that attracted them to the property.
Live-trapping is often seen as a humane solution, when in fact, it can be an extremely inhumane alternative:
Animals will often become extremely stressed when captured within a live-trap and severely injure themselves;
If the animal is left unprotected from the direct sun, rain, or extreme cold when caught in the trap, they may die from exposure;
Neighbourhood pets may harass wildlife caught in traps, which causes significant stress;
If adult wildlife is live-trapped and removed from a site during the spring and summer, young animals will be separated from their mother. The young will die an extremely inhumane death from dehydration, starvation and exposure to the elements.
If a wild animal is relocated to an area that is unfamiliar, that animal will be at an extreme disadvantage in its ability to find food, water, and shelter and will often not survive. If released into a habitat that is suitable for that species, there will invariably be another animal of that species already resident to the area. Thus, the newcomer will have to compete with the resident animal for food, water and shelter in that area, and often times a dispute over territory between the newcomer and the resident animal will lead to injuries, or even death, to one or both of the animals involved in the dispute.
There are provincial regulations that restrict live-trapping and relocation. It is illegal in the province of Ontario to live-trap and relocate wildlife greater than one kilometer from the capture site, as per the Ministry of Natural Resources'Fish and Wildlife Conservation Act.
Concluding Remarks:
Wildlife enriches our environment and provides a vital connection to the fascinating world of nature. Although human/animal conflicts can and do occur, a little knowledge and a humane approach can go a long way toward fostering a harmonious co-existence.
More information about living with wildlife can be found on the following websites: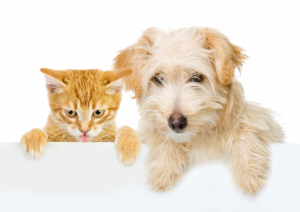 Are you a Pet Owner?
Register your pet(s) with the City of Guelph and get:
A rewards card to redeem deals from local businesses
Access to an online pet account
Free Lost Pet Program and Free Ride Home Program