Other
The Scoop on Poop
Reasons why you should stoop and scoop
Jenn Pratt and Elizabeth Bonkink, GHS Staff

Every spring we look forward to melting snow and seeing grass again. If you are a typical dog owner then there is something else you see a lot of after snow melts... poop. Piles of dog poop. It's tempting to just leave it there; after all it is biodegradable and just fertilizer, right? Did you know that in the City of Guelph you are responsible for the removal and sanitary disposal of any excrement? Should you fail to do this it could be enforced through a civil action that carries a maximum fine of $5000.
There are some really good reasons (other than aesthetic) for us to scoop.
1. Health Factors
A dog's waste can expose humans to some pretty nasty conditions including; adenovirus, parvovirus, giardia, roundworm, whipworm, tapeworm, hookworm, and coccidia. Children, especially, are susceptible to these diseases.
Additionally, dog feces attract flies and other unwanted pests. Not to mention, it makes walking hazardous - who would want to slip in a pile and injure themselves?
2. Environmental Hazard
Spring run-off or heavy rainstorms dilute dog waste and wash it into streams and sewers. The dog waste contributes to the bacterial content of rivers, polluting parks and waterways, and degrading the natural environment for fish, wildlife and people.
As society strives to be "green" dog waste is quickly becoming a large problem for urban centres. Toronto has initiated a "take it home" policy. In the summer of 2006 they found that 23 – 27% of all the waste in their parks is dog waste. It quickly piles up filling both garbage cans and landfills.
3. Responsibility
If we all clean up after our dogs, public opinion of dogs and dog ownership will be much more positive. When you stoop and scoop, the sidewalks, parks and green spaces are much cleaner and therefore nicer for everyone to enjoy.
Think of it as a health monitor for your dog. It allows you to detect if there is anything suspicious (off-colour, foreign materials, diarrhea, blood or mucus) that should be reported to your vet.
4. Effects on other pets
Parasites and some other viruses are transmitted from pet to pet through fecal matter. Your dog could contract something as serious as parvovirus or many different internal parasites from another dog's mess. If everyone cleans up after their pets the spread of these organisms will be much less prevalent.
Getting the job done
We agree we must scoop; here are some high and low-tech options to make this messy job a bit easier.
The poop scoop. These are specially designed tools that help you grab the pile without getting your hands too close to the mess. These devices can range from $10 - $200 depending on what you want. There are many designs to choose from including plunger like items and shovels with bags attached.
At the Guelph Humane Society, where we scoop a fair bit, we use a designated dust pan that is frequently sanitized. It keeps your hands clean and costs about $1.
Waste Disposal Services. These companies charge a fee to come to your home to clean up the yard. The cost is about $10 per dog per week. Some offer special spring clean up rates. Sorry, they won't follow you to the park to clean up after your dog. You must still do that yourself.
Inground Septic Systems. This is a plastic cylinder, buried in the ground, which breaks down the waste using enzymes. Water is absorbed leaving behind odorless byproducts. It can be installed in any size yard and is not difficult to do. This is an environmentally friendly option, but you still need to pick the feces up and place it in the Septic System. These are available at major pet stores and retail between $20 and $50.
Biodegradable Bags. These bags are made of cornstarch and decompose. You will want to install a pet waste composter for the deposit. (Do not use your backyard composter.) Many urban centres are providing these bags in leash-free areas along with a receptacle to dispose of the filled bag. They keep the parks clean and provide an environmentally friendly option to a plastic bag. These are available locally at Ryan's Pet Foods.
The plastic bag. This low cost, low tech, highly portable device works well for picking up. But it is not the best for the environment. The City of Guelph suggests that when you must use a plastic bag, you empty the mess into your Green bag. The soiled plastic bag should then go into your Clear waste bag.
If you are doing a large spring clean up, use a green 'wet' bag in a garbage pail and then scoop the piles into the green bag. The City recommends draining liquid from the bag before disposal. They also request that you double bag this disposal.
The Guelph Humane Society would like to remind pet owners that cleaning up after your four- legged friend is a responsibility each owner needs to bear. Not only is it the law, but keeping a pet in a yard filled with feces could result in a cruelty charge.
So fellow Guelph citizens... Please stoop and scoop when your dog poops!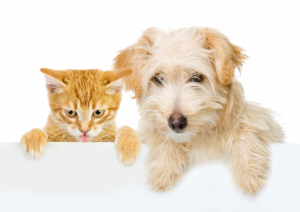 Are you a Pet Owner?
Register your pet(s) with the City of Guelph and get:
A rewards card to redeem deals from local businesses
Access to an online pet account
Free Lost Pet Program and Free Ride Home Program