We have found this pet's record
We found a pet record for this tag. Below is all of the information that the Pet Owner has currently made available online to those who look up the Tag ID. If you have spotted this pet or currently have this pet in your possession, please do one of the following:
Contact the pet owner directly if their contact information is provided below.
File a Found Pet Report by clicking the blue button below.
You may contact our 24/7 Hotline any time at 1-855-249-1370
Bo Jangles is lost!
Lost Date
July 5th, 9:00am
Wearing collar?
No
Last seen at
120 McElderry Road, Guelph, ON, Canada
Very friendly black cat; likes to wonder and may appear to be a stray (skinny, but will eat anything you offer). Does not have a collar as he rips them off.
Map
Bo Jangles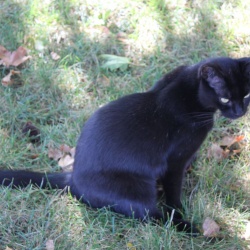 | | |
| --- | --- |
| Tag Code | C02QKRMQ, C02QKRMQ, C02QKRMQ, 2LZUQ |
| Breed | Mixed |
| Species | Cat |
Basic Information
| | |
| --- | --- |
| Colour | Black |
| Gender | Male |
| Spayed/Neutered | Yes |
| Microchip Number | 952000000133848 |
| Approximate Age | 14 years old |
| Identifying Markings | scar on right shoulder |
| Coat | Short black hair |
Owner Information
Owner Name
Nigel and Janette Wood
Phone Number
(519) 400-6479
Cell Phone Number
(519) 546-1570
Work Phone Number
(519) 821-2243
Home Address
120 McElderry Rd
Guelph ON N1G 4J8
Pet Care Information
| | |
| --- | --- |
| Friendly with People | Yes |
| Friendly with Children | Yes |
| Friendly with Dogs | Yes |
| Primarily Outdoors | Yes |
| Type of Food | Dry biscuits and a can of wet cat food daily |
| Feeding Schedule and Amount | Mornings - 1/2 cup of dry biscuits and 1 can of wet cat food |
| Permissible Foods | No "people" food; Purina cat chow or similar, any canned cat food - not a fussy eater! |
| Exercise Requirements | None |
Medical Information
Vaccines
Up to date
Medications
None
Allergies
None
Conditions
Back, right leg was pinned due to break, so now experiencing some arthritis - sits with rear leg out
Veterinarian
Stonegate Animal Hospital

(519) 265-7224