We have found this pet's record
We found a pet record for this tag. Below is all of the information that the Pet Owner has currently made available online to those who look up the Tag ID. If you have spotted this pet or currently have this pet in your possession, please do one of the following:
Contact the pet owner directly if their contact information is provided below.
File a Found Pet Report by clicking the blue button below.
You may contact our 24/7 Hotline any time at 1-855-249-1370
Emerald (Emmie) is lost!
Lost Date
July 17th, 9:30am
Wearing collar?
No
Last seen at
106 Woodlawn Rd E, Guelph, ON N1E 1B7, Canada
Emmie got out on Sunday morning and has been missing since. She is a grey and white female indoor cat who is approximately 2 years old. She has a pink nose, white paws and a long grey tail with a white tip.
Map
Emerald (Emmie)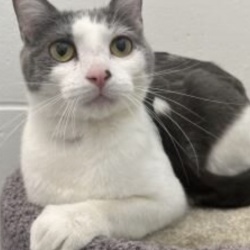 | | |
| --- | --- |
| Tag Code | N02W1WI1 |
| Breed | Domestic Shorthair |
| Species | Cat |
Basic Information
| | |
| --- | --- |
| Colour | Dark-grey, White |
| Gender | Female |
| Spayed/Neutered | Yes |
| Microchip Number | 982126057412581 |
| Pet Date of Birth | 04/03/2020 |
| Identifying Markings | Black spot on her pink nose and white tip on her tail. |
| Coat | Short hair. |
| Pet Biography | Emmie was adopted from the Guelph Humane Society March 12, 2022. |
Owner Information
Owner Name
Daphne Forler
Cell Phone Number
(519) 574-3367
Home Address
106 Woodlawn Rd E # 2
Guelph ON N1E 1B7